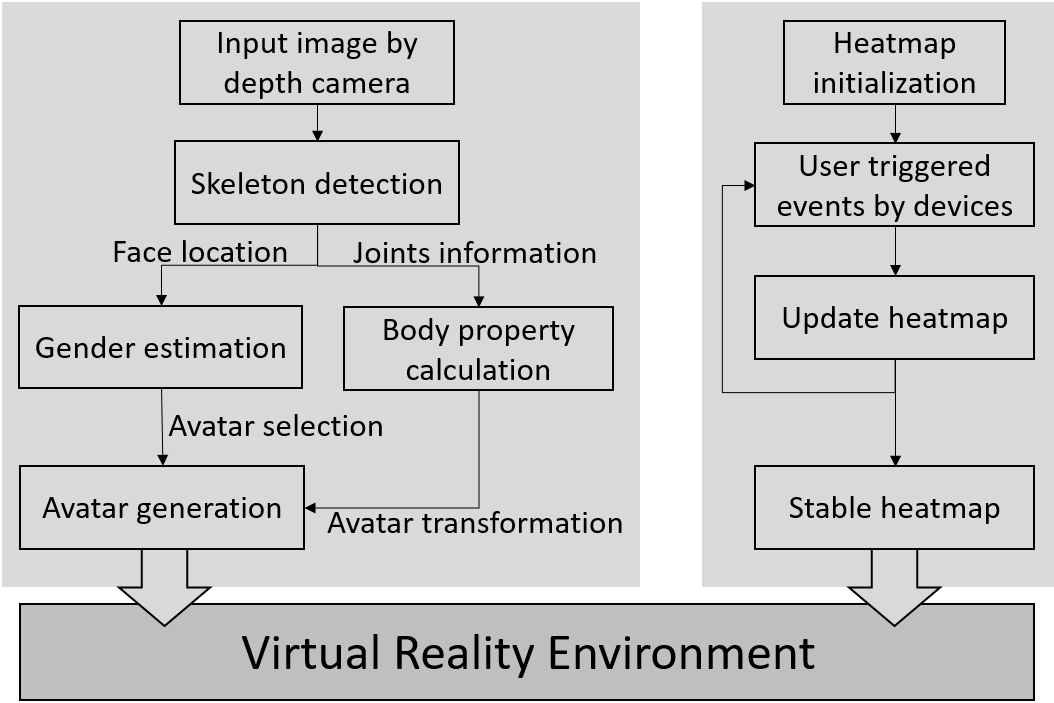 System flowchart

Generating Avatar of Consistent Property and Designing Interaction Usability Based on Human Factor Engineering in VR
[基於人因工程在虛擬實境中生成一致屬性之代理人及設計互動上之易用性]
---
ABSTRACT:
Limitation in physical elements was one main impediment to develop virtual reality (VR). In recent years, due to the advance and popularization of hardware technology, the concept of virtual reality is becoming increasingly well known. Consequently, its related problems such as have become evident non-intuitive controls. Here, we develop a system that optimizes user experience through a smart configuration of software and hardware. Users are able to experience better visuals as well as a simpler, more intuitive control in virtual reality.
We consider the reason for poor user experience is insufficient immersion. To increase immersion, we focuses on two aspects of improving virtual reality interaction experiences: user visualization and the control mechanism. First, we construct a virtual reality system using the image and depth information to realize position, gesture, body type, and gender of a person in client environment for generating an avatar that has consistent property. In such a way, users are able to experience better visuals, and being closer to the real world. Second, we provide position-tracking based controllers and hands gesture-recognizing sensors to prevent restricting users by a single device feature, and achieve a more versatitle control compared to that in conventional methods. Moreover, we made an adaptive user interface using user real-time feedback and human factor. Therefore, users can get more suitable instructions.
Our system focuses more heavily on how to optimize the human-machine interface. Moreover, we improved the visual and interaction through adding avatar and various control. The aim is to make our system become more immersive than any other VR systems. Finally, we used scientific methods and user experience questionnaire to quantify the degree of improvement, and further validated that our system is indeed effective in immersion enhancement.



SUMMARY (中文總結):
近年來由於硬體的進步與推廣,實境系統的概念逐漸廣為大眾所知。在其發展蓬勃、普遍化之下,虛擬環境中的操作問題也逐漸浮出檯面。因此我們提出了一套經由軟體及硬體的搭配,來達到優化使用者體驗的方法,使得一般使用者於虛擬實境中能夠有更佳的視覺觀感,並更簡單、直覺地進行各類操作。
我們認為造成使用者體驗差異重要的原因在於沉浸感。而為了提升沉浸感,我們分別以人物可視化及操作性兩部份進行探討。在第一部分,我們建立了一套虛擬環境,利用深度攝影機的影像及深度資訊,取得實體環境內的人物的位置、動作、身高、性別等資訊,並在虛擬世界中產生一致屬性的代理人,使使用者能夠在視覺上有更加貼近真實世界的感受。而在第二部分,我們提供使用者定位型的控制器以及手勢辨識型的感測器,來避免使用者因單一的裝置特性而被限制行為,達到相較於單一操作手段更加豐富的體感控制,並透過使用者回饋及人因工程的知識,來對使用者介面做動態調整,使使用者能夠獲得更正確的操作指示。
我們的系統著重於如何優化人機介面,透過系統設計來達到視覺上、互動模式上的改進,使得使用者在使用本系統時能夠得到比起其他系統更加有沉浸感。並透過科學驗證及使用者經驗回饋的方式來將本系統改善效果量化,以證明本系統是有效的。


PROJECT MATERIAL:
---
Result of heatmap generation

Your browser does not support the video tag.




Result of avatar deformation

Your browser does not support the video tag.